You're moving. Now what?
By: Mitch Mitchell
March 5, 2020
Our "37 things to do when moving to a new home" checklist
After the initial excitement of determining how much home you can afford,  finding the perfect place, and having your offer accepted, the reality of being a first-time homebuyer really hits: there's still a lot of work to do! From clearing clutter to collecting moving boxes to organizing every little thing, moving is stressful. But it doesn't have to be. 
To make moving more manageable, we've compiled a checklist of 37 things you'll want to do before, during and after moving to a new house.
Getting ready
Store to-do lists, contact info, moving company price quotes and moving-related expenses (to claim on next year's tax returns) in a "MOVE" folder you can set-up for free with Google Drive or Dropbox.  
Judge your stuff. Get rid of anything you don't like, don't use or don't need in your new home. Plan a yard sale and price items to sell. If it doesn't sell, donate it. Just don't bring anything back into the house. 
Celebrate your old place with a final get-together. It's the perfect time to bequeath unwanted items to friends while hinting that you could use a hand on moving day. 
After whittling down your possessions, you'll need boxes. Grocery stores have a never-ending supply, but we prefer Craigslist: people who've recently moved are good sources for cheap, used moving boxes. 
Before unplugging electronics, snap photos of cable connections and file them in the folder created in tip #1. Label all cables so you know which goes with which device. 
If you're moving out of town, arrange for dental, medical and vision care records to be transferred to your new healthcare providers. Even if you haven't secured new doctors, it's smart to alert current providers of your impending move before you forget.
Plot the move
It's cheaper to take on a DIY move with a few friends and a rented truck, but if the weather sucks or friends flake on you, you may regret it. Moving companies will cost more, but you'll know it'll be a smoother transition. Search online reviews before hiring one.
Some apartment or condominium buildings limit moves to specific days of the week or only allow a few each day. Ask about restrictions before scheduling your move.
While many movers provide estimates online or over the phone, ask for an in-person estimate. It'll be more accurate and they'll get a chance to measure doorways, stairwells, and elevators in advance. TIP: get similar measurements from your new place. 
There are several contracts associated with hiring a mover. When you get your estimate, ask for a list of all documents requiring a signature. Review each carefully before signing.  
After setting a date, request time off of work. If you're moving nearby, get someone to babysit your kids and pets. Moves can be confusing for both. 
Packing prep 
Movers often pack you up on the day of the move, but it may be less chaotic if you pack some things in advance — especially fragile items. Unpacking goes so smoother if you label boxes by room, so use different colored packing tape or stickers to indicate where everything goes. 
Don't delay packing until the day before the move. When rushing, items get broken or stuffed into the wrong boxes. Or you'll forget out-of-sight items in storage units or clothes left at the dry cleaner.
Inventory everything as it's packed. But don't pack anything of high-value. Your movers may insist that they handle these items personally to verify they're not already damaged. They'll also want to unpack them later to prove they've survived the move. 
Accidents can happen, so consider whether it's worth having moving insurance. Your car insurance company probably offers it. While you're at it, ask about homeowner's insurance for your new place. You'll get a better deal if you bundle it all together.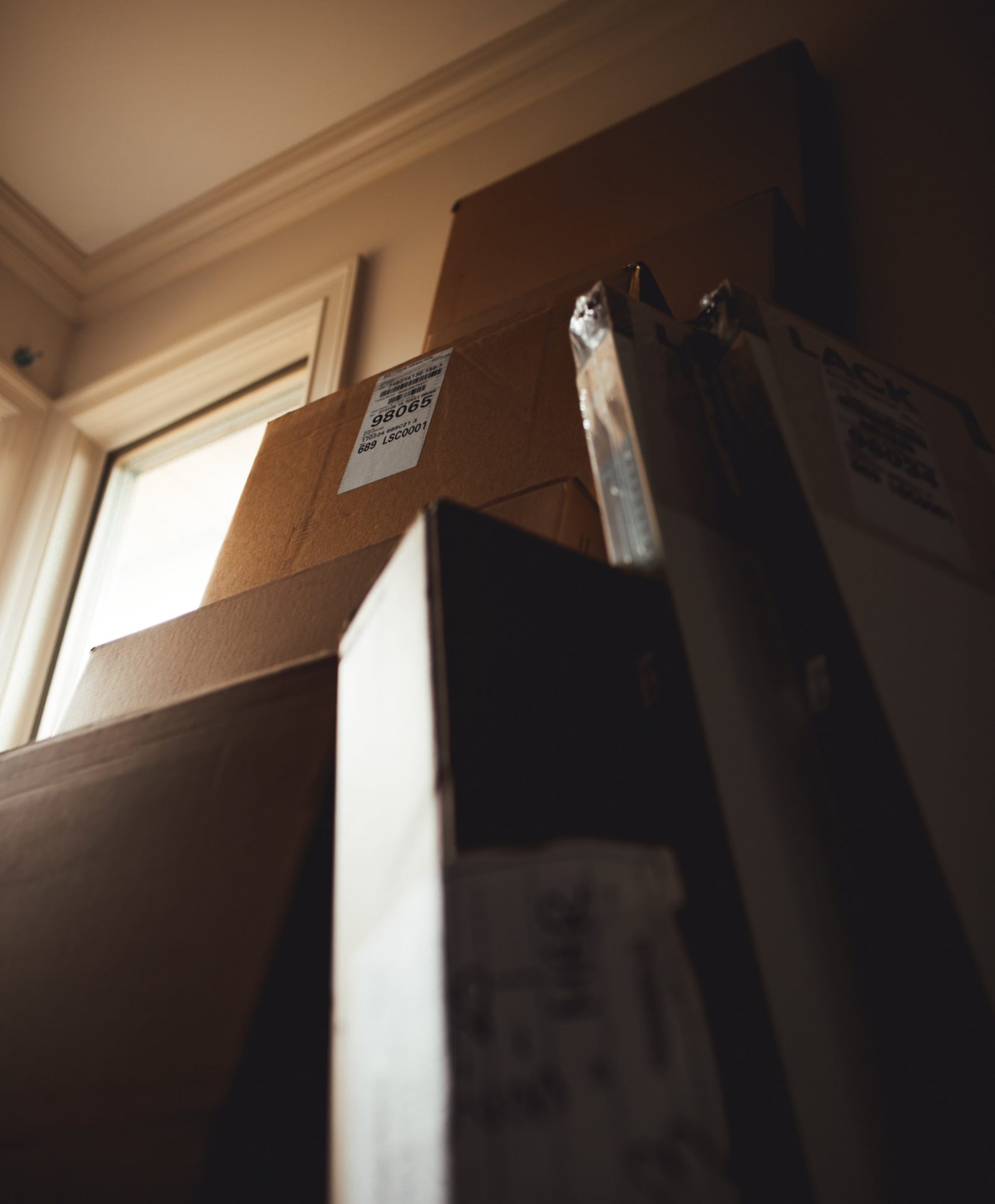 Organizing pre-move
Collect all financial and legal records, including tax returns, passports, birth certificates, bank checks and mortgage papers. Rather than have the movers handle them, keep them with you in a backpack or shoulder bag. 
Because most moves typically happen around the first of the month, the earlier you look into a parking permit for the moving van, the better. Some cities provide signage to reserve a space (for a fee). 
Let your water, electric and gas companies know when to transfer your services to the new address. If you're moving out of town, research your options for utilities ahead of time and set up start dates before you move.
If your internet provider is national, transferring your plan should be a snap — otherwise, schedule installation for a day or two after the move. If you haven't cut the cord to cable yet, go for it: you'll save a bundle over the long haul. 
Desktop and laptop computers can get bumped and busted in a move, so back them up to make sure all your digital stuff is safely stored. 
Hardly anyone uses snail mail anymore, but it's still necessary. Tell USPS where to forward mail. 
Plot out your new commute. If possible, do a dry run to guard against any hiccups on your first day back to work.
Remember to refill prescriptions early so meds don't run out before the move.
Clean sweep the old place
It's good karma to clean up before moving on. Once your old place is empty, wipe down kitchen and bathroom surfaces, sweep the floors, empty the fridge, and defrost the freezer. Check that you've left nothing behind in hard-of-reach cabinets or dark closets. 
Take photos to document that you're leaving your old home in a pristine condition. If you're moving out of a property you own, this will ensure the buyer's inspection goes without a hitch. If you're leaving an apartment, it'll help get your security deposit back.
The previous residents probably left your new place tidy, but you might want to arrange for a cleaning service to do a once-over: better than discovering it's a mess when moving in.
It's moving day
Protect floors from getting scratches in your old home and your new one. Covering high-traffic areas with cardboard is an inexpensive solution. 
Moving is a lot of work. Tipping your movers is appreciated, but don't add it to the moving bill. Be sure to withdraw enough cash from an ATM before the move is complete. 
You're going to be exhausted, so don't try to unpack everything immediately. If you're planning to stay in your new home on the first night, make up your bed and pull out your bathroom necessities. Take-out pizza seems appropriate. Welcome home!
The morning after – and beyond
Time to unpack, decorate and turn these new four walls into a space that makes you happy. Read our blog for some simple decorating tips. 
Before unpacking, set up a place to put your essential papers. This way, they won't get tossed with unwanted packing materials.
Don't rush, but make it a goal to be unpacked within two weeks of moving in. Afterward, get back on Craigslist to give away your gently-used moving boxes.
You can't be too safe, so consider installing a new home security system.
Every state requires that you update auto insurance, car registration and driver's license after moving, typically within a month. While you're at it, update your voter registration. 
Make copies of new keys to leave at the office or with a neighbor just for emergencies. 
After stocking the fridge, host a housewarming dinner party to thank those who helped with the move. Invite your real estate agent and your mortgage lender, too.
Finally, get out and meet some neighbors. If you have a dog or a kid, this will be easier than you think. Otherwise, a cafe is a great place to get your bearings.
Oh – one last thing 
Don't want to print this list out as a reference guide? No problem. When working with Movement Mortgage for your new-home financing, you get free access to the Updater app to help you streamline your move. Check out its video to see how Updater can help organize your next move. 
We hope you enjoyed our moving into a new house checklist. If you're still house hunting or shopping around for a loan pre-approval (smart idea!), reach out to a Movement Mortgage loan officer. With more than 1,200 across the country, we're sure to have one covering the area to which you're looking to move.