Fed takes a brief pause, changes its 2023 outlook
By: Movement Staff
June 16, 2023
Fed takes a brief pause, changes its 2023 outlook
The Federal Reserve opted not to implement an 11th straight rate hike at its latest meeting—but there was little relief on Wall Street as the Fed revealed it's not done with rate increases quite yet. Fed Chairman Jerome Powell said in his remarks after the meeting, "We understand the hardship that high inflation is causing, and we remain strongly committed to bring inflation back down to our 2 percent goal. The process of getting inflation down is going to be a gradual one — it's going to take some time." 
The Federal Open Market Committee said they wanted to wait another six weeks to allow time to see more results from their quantitative tightening measures before raising rates from their current target range of 5%-5.25%.. Markets are pricing in another rate hike from the Fed at its July 25-26 meetings.
This June meeting also produced the FOMC's Summary of Economic Projections, a.k.a the "dot plot." It's not just a clever name—the SEP is a collection of dots on a graph to show where FOMC member sentiment is leaning when it comes to further rate hikes.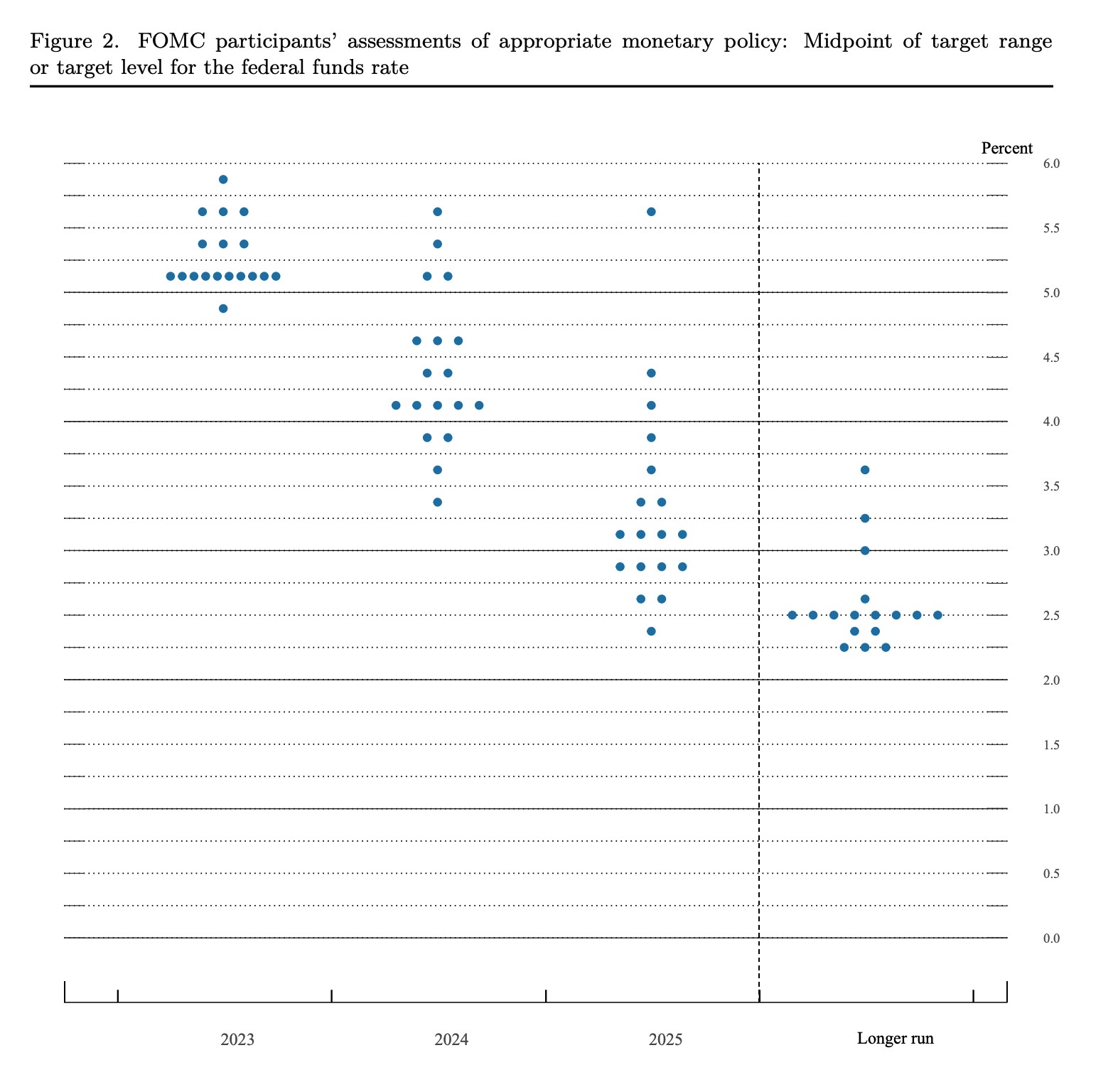 The dot plot indicates many members predict at least two more interest rate hikes this year with rates peaking in a range of 5.6%. As we move into 2024 and 2025, you can see the sentiment is largely in favor of rate cuts with the range potentially moving back into the 2% range in 2025. 
A large influence on the Fed's decision this week were the consumer price and producer price indices. CPI rose at a 4% annual rate, which was its lowest in 2 years, and moved up just 0.1% month-over-month. However, the core reading was not a terribly positive picture. When you take out the more volatile readings like food and energy, the core CPI was up 5.3% year-over-year. The largest contributor across the board was a 0.6% increase in shelter prices, which means housing. 
The PPI rose by 1.1% year-over-year in May—a sharp decline from April's 2.3% annual increase. PPI has decelerated for 11 straight months and is at its lowest level since December 2020. 

WHAT DOES ALL OF THIS MEAN FOR HOUSING?
Decelerating inflation is a key factor in helping housing continue its slow recovery. In their latest release, Freddie Mac's economists stated, "As inflation continues to decelerate, economic growth is slowing and the tightening cycle of monetary policy is reaching its apex, which means mortgage rates are expected to decrease later this year and into next." Rates did decrease ever so slightly week-over-week with Freddie Mac's 30-year fixed-rate mortgage average falling to 6.69%. 
Declining inflation will also be good news for homebuilders as they continue to be stretched by high labor and materials costs. Those costs have thankfully waned in recent months and helped push a declaration in pricing for new construction. The median sales price for a newly-built home in April 2023 was 420,800. A year ago, that median price was just above $458,000 and in October 2022 it was over $496,000. 
Consumers also continue to be highly sensitive to any change in mortgage rates. Over the last couple weeks of slight declines, mortgage activity picked up. The Mortgage Bankers Association reported applications increased 7.2% week-over-week for the week ending June 9. 
Joel Kan, the MBA's Vice President and Deputy Chief Economist, said in their release, "Mortgage rates declined for the second straight week, with the 30-year fixed rate decreasing to 6.77 percent. Mortgage applications were up over the week, but remained well below levels from a year ago. Rates that are still more than a percentage point higher than a year ago, and low for-sale inventory continue to constrain homebuying activity in many markets. The average loan size on a purchase loan decreased for the third straight week, as we continue to see more first-time homebuyer activity in the purchase market."
MARKET COMMENTARY FROM BARRY HABIB
Check out the video below for Barry Habib's take on the market and what it could mean for homebuyers.