Movement Mortgage promotes 6 sales leaders across the U.S.
By: Movement Staff
May 21, 2021
Movement Mortgage promotes 6 sales leaders across the U.S.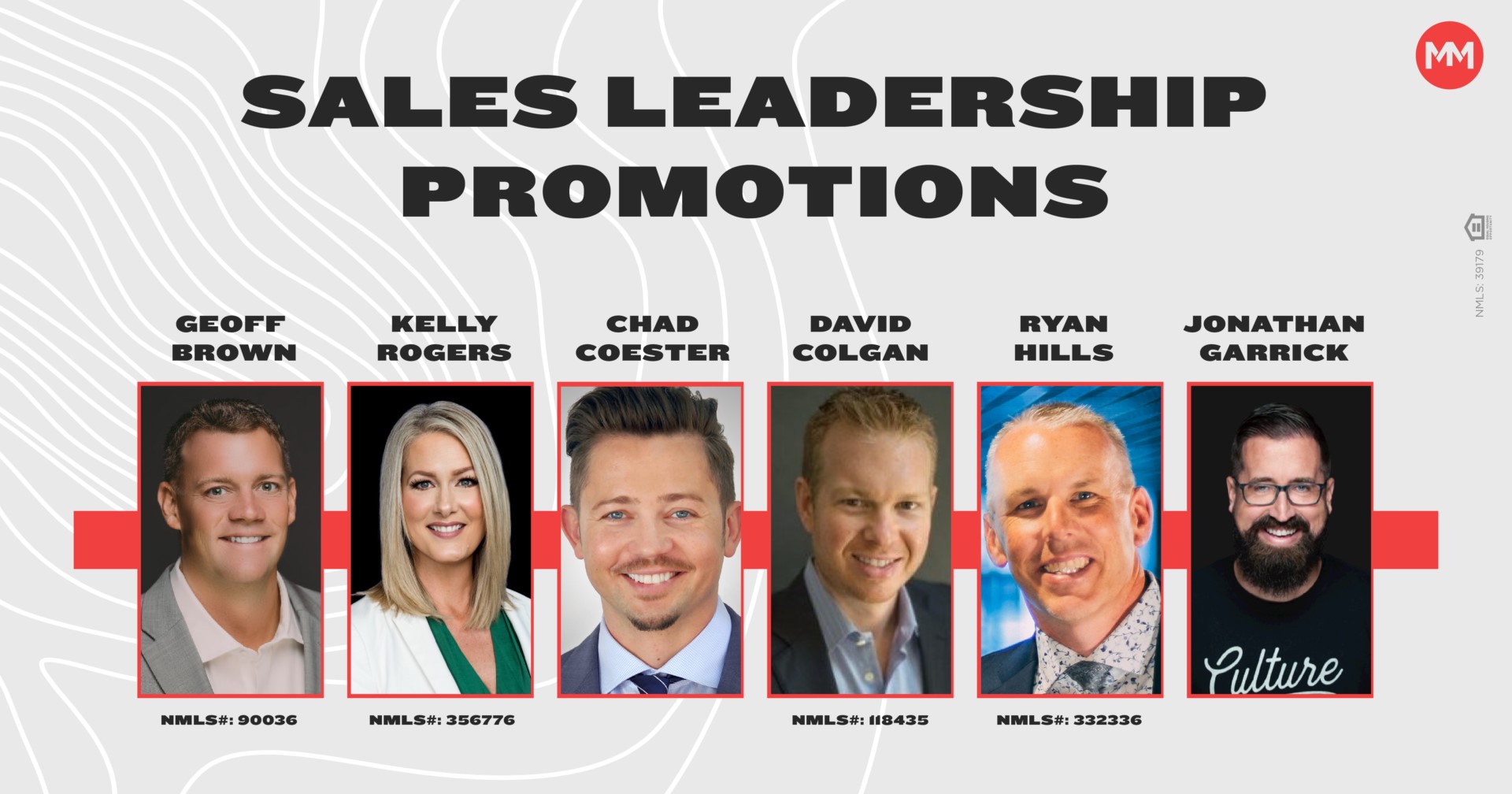 FORT MILL, S.C. — Movement Mortgage, the nation's sixth-largest retail mortgage lender, has named new sales leadership in six expanding regions across the United States. 
The new regional directors are all company veterans promoted to lead new and expanded sales territories for the company. They will lead production, recruiting and community engagement in these key markets for Movement.
Geoff Brown, in his new role of Mid Atlantic Regional Director, will be responsible for Movement's business in Greensboro West, Charlotte, Asheville, Indiana and Eastern Tennessee. Brown had no mortgage experience when he joined Movement in 2008 and led a market with more than $1 billion in volume in 2019 and 2020. 
Chad Coester, Regional Director for Southern California, joined Movement in 2013 and has become a powerful presence in Los Angeles, Ventura and San Luis Obispo counties. He brings 20 years of experience and an approachable style of leadership to team coaching and mentoring.  
David Colgan joined Movement in 2018, bringing with him more than two decades of mortgage production experience. As Regional Director for Movement's South Atlantic region, he will now be responsible for South Carolina, Raleigh, Eastern North Carolina, Ohio and Kentucky. 
Jonathan Garrick, Regional Director for the Southeast, will expand his thriving Florida business to include Alabama, Georgia, Mississippi and Louisiana. Jonathan has over 17 years in the mortgage industry and has been with Movement since 2016.
Ryan Hills came to Movement as part of the 2019 acquisition of Eagle Home Mortgage and was a significant factor in more than doubling the company's presence in the area. As Regional Director for portions of the Pacific Northwest region, Ryan brings 12+ years of experience and vast local knowledge to his new role.
Kelly Rogers has been promoted to Regional Director of Movement's Third Coast region, including Texas, Oklahoma, and New Mexico. Based in Houston, Kelly brings over 20 years of mortgage experience to the role and has been with Movement since 2016. She founded Houston's The Kelly Rogers Team and grew it to be one of the top producing mortgage teams in the state.
"I'm proud of the depth and experience of Movement's sales organization, which is reflected in the talent and trust built with these incredible leaders," says Movement President Michael Brennan. "They each exemplify our deep commitment to both people and communities in these important growth markets and help Movement continue to reach our goal of becoming the top purchase mortgage lender in every community we serve."
Movement, founded in 2008, funded $30 billion in home mortgages in 2020, making it one of the largest purchase mortgage lenders in the U.S. Licensed in all 50 states, the company is expanding nationwide as it hires hundreds of loan officers, underwriters, processors, closers and other support professionals to help lead its continued growth plans.
In 2020, privately-held Movement Mortgage paid a $200 million dividend to its nonprofit Movement Foundation as part of its mission to love and value people by investing in communities. This "more than mortgages" initiative has resulted in the construction of three public charter schools with plans to construct at least ten more over the next five years. The foundation also supports community grants across the U.S. and the development of community centers in developing countries.
—————————————————-
About Movement Mortgage 
Movement Mortgage exists to love and value people by leading a Movement of Change in its industry, corporate culture and communities. Funding approximately $30 billion in residential mortgages annually, Movement is the sixth-largest retail mortgage lender in the U.S. Movement is best known for its innovative mortgage process and referable experience, which begins with Upfront Underwriting and a seven-day loan processing goal. The company employs more than 4,000 people, has more than 650 branches in the U.S. and is licensed in 50 states. After funding its balance sheet and investing in future growth, Movement's profits are paid to its primary shareholder, the nonprofit Movement Foundation. To date, Movement Foundation has received more than $260 million of Movement profit to invest in schools, affordable housing, communities and global outreach. For more information, visit www.movement.com.